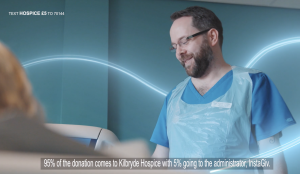 We are always excited when a new client comes to us with an already well-developed understanding of how they can use social and smart TV advertising to build their brand.  Many companies have insight to using social media and some digital methodologies but not many are well-versed in the power of combining TV with this kind of strategy. 
Our initial meetings with Kilbryde Hospice in South Lanarkshire (Scotland) immediately led to some great creative planning- perhaps too fast!  As there was such a good understanding of the technology and the approach, we were fast into talking about how we could target key, identified audiences with the right messaging.    
Meeting with Gordon McHugh, CEO and his team of marketing and comms staff really was amazing.  Not only does the hospice deliver incredible services to their community but they are a forward-thinking and dynamic charity.  Perhaps due to being so new in existence, they are always open to new ideas and techniques and definitely fit the "early adopter" profile.    
The challenge:

The Hospice is relatively new in the area- building the brand over the past 5 years has been a lot of work and they only opened the building 2 years ago.  There is a lot of brand awareness of other hospices in the wider area with many well-established names being part of the business and local community. Previously, residents of South Lanarkshire were served with hospices and palliative care specialisms outwith their area.  This has meant historic, personal/emotional links to these other charities.  
The solution:
Our campaigns used both Adsmart from Sky alongside a range of audience-specific social campaigns.  This built messaging around both a fundraising and a brand-build creative concept. 
The content:
Our content uses familiar locations to the audience- everything was shot in South Lanarkshire with real residents and staff.  The overwhelming message was that, wherever people lived in the area, the hospice would touch their lives. Their families, friends, neighbours, workmates would all benefit from the service in the area and that they can be part of the future.  

Surprise addition:
In the process of developing the ad, as always, we talk about the various inputs.  This lead to an interesting discussion around the Voice Over. The hospice were keen to use a supporter but also someone with a bit of a presence.  Can you tell who it is yet? We were very "proud" to use this voice over artist!