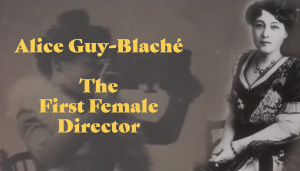 This year's International Women's Day takes place on Sunday 8th March. To celebrate, the team at Enterprise Screen wanted to put the spotlight on an inspiring woman who led the way for female filmmakers.
Alice Guy-Blaché was the world's first female director. Born in France in 1873, Guy-Blaché began her career in the filmmaking industry as a secretary at Gaumont Studio where she later convinced Gaumont to let her make a film during her lunch break.
Her first film, La Fée aux Choux (The Cabbage Fairy), was not only the first female directed film, but also the world's first narrative film.
As Guy-Blaché's career and talent continued to grow, she utilised Gaumont's Chronophone sync-sound and is promoted to Head of Production at Gaumont with big budget productions The Life of Christ and La Glu showcasing her unique talent in filmmaking.
In 1910 Guy-Blaché and her husband establish Solax Studios in the USA (the largest pre-Hollywood Studio in America) directing films such as Canned Harmony and A Fool and his Money (the first film to feature an all African-American cast).
Unfortunately in 1919, Guy-Blaché faced a tough and challenging year which saw Solax Film labs destroyed in a fire, the East Coast film industry rapidly decline (as Hollywood grew) and on her return to France, the struggle to find directing work in a now male-dominated industry (an industry in which she helped to create).
Times change however in 1953 when Guy-Blaché is awarded the Légion d'honneur – the highest non-military award in France.
Today, Guy-Blaché is recognised as a pioneer of cinema and her iconic work is stored in Archive to inspire future female filmmakers.