https://www.youtube.com/watch?v=7sZEtJtSlFM
13 Dec, 1997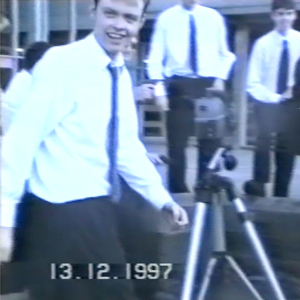 Enterprise Screen Founder and Chief Creative Officer, Jamie Smith, decides that a career making video is a smart choice.  Producing, Directing, Editing and at times, shooting his first big video project in 1997…while still at school.  The project is legendary…but you need to speak to Jamie to get the full story.
17 August, 2005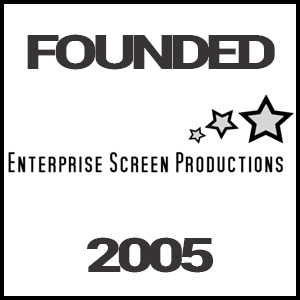 Enterprise Screen is born!  Our original logo was a little bit "showbiz" but hey, we were young, full of ideas and had little time to spare for branding!  We also think we had the longest name in video production (so quickly dropped the "productions")!  It was a busy time- the world of video was really starting to change.  No longer just big, slow, corporate video…this was the start of it all.
25 September, 2005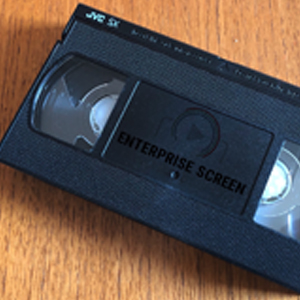 Our first video project was handed over on an actual VHS.  The client used it to present to a government committee and played it on a VCR (video cassette recorder)…to apparent applause and tears (of emotion).  Wow, what a nasty format VHS was to work with but it has a place of fondness in all of our hearts…some of us even remember Betamax!
22 February, 2008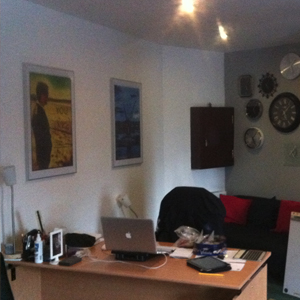 We move into our first home…a former Bank in Glasgow, it came with some unique features that you have to visit us to see.  It is a quirky building in a quiet street but we have made it home! The first design included an homage to which famous movie? Check out the background in this one.
15 April, 2009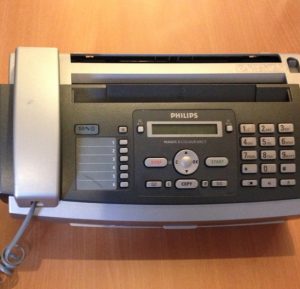 The first and last time we used this fax machine.  This was strange technology that combined everything that is dreadful about printers with everything confusing about the telephony system…and what was with the paper? If you want to fax us now, you'd probably need to travel back in time.  Did anyone get the movie reference in the previous slide?
14 June, 2013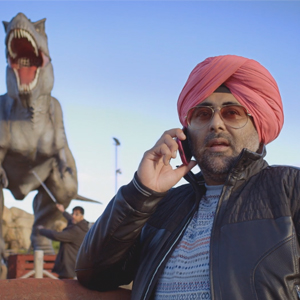 Our first TV Commercial on STV- was actually a series of 3 TV Ads that rotated- commissioned in the summer but aired over Christmas.  Some famous faces helped drive huge impact for this NHS campaign (which continues to impact in 2019- with new content!).  Does anyone remember seeing it? We loved it and it was an exciting time- building STV Campaigns was the start of understanding TV advertising in Scotland and we have gone from this to using TV in a much smarter way!  Still, we're proud of where it began.
7 June, 2015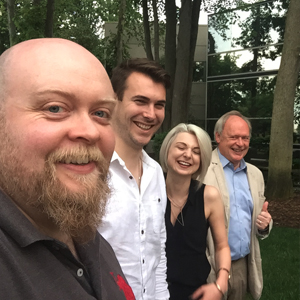 We open the first office in the USA! It was a long journey both for these 4 and for the company! So Enterprise Screen USA is born and starts building work with some of the biggest companies in the world!  Our team begins to grow and it is only just the beginning!
Enterprise Screen is a professional video production company and creative agency based in Glasgow, Scotland, Washington DC and Dublin, Ireland, specialising in video production, advertising and digital marketing.
We don't just make video- we make video work. For 15 years we have developed video that delivers results for our clients. From content-led, online campaigns using Facebook, Linkedin and Instagram to highly targeted TV using Sky Adsmart. We also deliver campaigns on STV, ITV, C4 and cinema in the UK and with all broadcasters in the US market.
Our clients come from every sector you can imagine and range in size from recognised local brands to international, Fortune 500 companies and everything in between.  What they get from Enterprise Screen is video at its best- video that works.  We campaign with video across all social channels and we deliver the best B2B video for our clients.
With a talented team of filmmakers, marketing professionals and social media specialists, we have been producing video for television, online, social media and beyond for over 15 years.
We provide our clients with a complete video production service, from creative concept through to distribution and campaigning and everything in between. We can deliver everything for you or work in partnership with your team or marketing agency to build the right campaign with the right content. We are skilled collaborators with first-class project management.
No job is too big or too small: we are just as comfortable managing a national TV advertising campaign as we are offering a personalised service to a small business or startup. Whatever your production budget we aim to deliver results with creativity and style.
If you're looking to achieve success with a cost-effective, social media campaign, we know how to deliver results. Just look at what we've done with some of our existing clients! We are proud to offer a bespoke social media management service helping you to engage with the right audiences in the right places. We can provide results-focused analytics and post campaign reporting, helping you to track your campaign budget and to see your return on investment.
Above everything, producing beautiful video content with impact is at the heart of everything we do, so please have a look at some of our previous work and get in touch to see how we can help you to share your message with the world.

Let's do this (by this we mean, get results from your video marketing!)