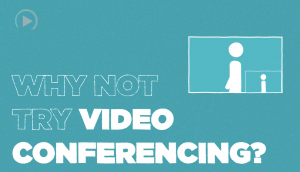 We all like doing business face-to-face but in today's current climate, why not try video conferencing for team and client meetings – for free?  This video guide was produced by our super-amazing, video animation team here in Glasgow.  It is a simple guide to using video conferencing and has been used online and shared across channels.  It's a simple example of a great way to share knowledge and advice and we like the style!  Share and enjoy. 
Here are our top tips for video conferencing:
Tip 1: Have a stable internet connection
Tip 2: Send an agenda prior to the conference 
Tip 3: Don't take over people
Tip 4: Don't multi-task – as research suggests only 3% of people can multi-task effectively
Tip 5: Find a quiet spot.
Video conferencing is really easy to use and helps change how we interact with clients and team members, making it a great alternative to face-to-face meetings whilst still building strong relationships.